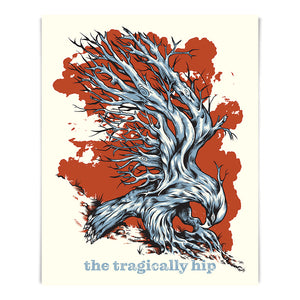 "Yer Favourites" Limited Edition Signed Art Print by Billy Perkins
0001-4001-0464
Regular price
$75.00
$0.00
Unit price
per
16" x 20" screen print on 100# cougar natural. Individually numbered
Inspiration:
"Following the direction of birds, trees, plant roots, and specifically the idea of man emerging from nature and nature getting "revenge"...
I decided to go full illustration with this piece, combining some of the ideas above into a simple concept, leaning heavily on illustrated line work and angular composition.  Here we see a withered and wind-worn tree, very much a part of the landscape, an aged fossil of another time...but when? The evidence of an epic occurrence is before our eyes, but its wondrous origin is left to our imagination. We can only guess at the story of its wondrous transformation and how it came to be so frozen in time.
One of life's most prolific predators, a large raptor and feared denizen of the sky, reclaimed by the earth as if it had inadvertently gazed into the eyes of nature's own gorgon, and was immediately transformed the moment its razor talons touched her skin. It's as if the soil had snared it like a web, coursed through its bones, flesh and feathers, and replaced them with minerals and fibers. Now, it's the blood of the earth that flows through its extremities. Its days of flight and of the hunt are over. It catches the sun now from its solitary position. But is it "dead"?
Oh no, not at all...for it has become one with its mother, and she is very much alive."
Billy Perkins
Bio:
Longtime Austin native Billy Perkins was drawing by age 4, inspired by the comic book art of Buscema, Colan, Kirby, Steranko and more. More major artistic influences came in the form of album cover art, 60s psychedelic poster art from San Francisco and Austin, and of course, from the music itself. Perkins' style is derived equally from these influences, at times combining elements of them all.
Perkins' illustrious 32 year career has produced rock posters, band logos and album art for Widespread Panic, Blondie, Cheech & Chong, Cheap Trick, Alice in Chains, ZZ Top, Fleetwood Mac, Metallica, Foo Fighters, Black Pumas, Judas Priest, Van Halen, The Black Keys, The Cure and many, many more.
---
Share this Product