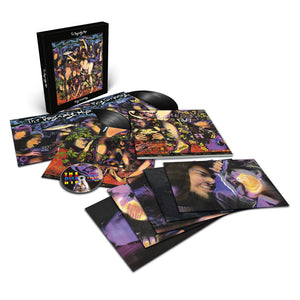 Fully Completely 30th Anniversary Deluxe Vinyl Box Set
0001-3003-0617
Regular price
$180.00
$0.00
Unit price
per
To commemorate the 30th Anniversary of The Tragically Hip's iconic Fully Completely album originally released on October 6th, 1992, a new deluxe vinyl edition will be released on October 7th, 2022. 

The Tragically Hip – Fully Completely Vinyl Deluxe edition
Fully Completely 2022 Vinyl Remaster
 Side One
Courage (for Hugh MacLennan)
Looking for a Place to Happen
At the Hundredth Meridian
Pigeon Camera
Lionized
Eldorado
Side Two
We'll Go, Too
Fully Completely
Fifty Mission Cap
Wheat Kings
The Wherewithal
Locked in the Trunk of a Car
Live At The Horseshoe Tavern
Sept 13th, 1992
Side One
At The Hundredth Meridian
Fifty-Mission Cap
We'll Go Too
Fully Completely 
Pigeon Camera
Side Two
Twist My Arm
Lionized
Wheat Kings 
Eldorado
Side Three
Looking For A Place To Happen
Courage (for Hugh MacLennan)
Locked In The Trunk Of A Car
The Wherewithal
Side Four – bonus tracks
Radio Show
So Hard Done By
The Tragically Hip on Tour
Heksenketel: Blu-ray newly remastered from the original tapes
+ Dolby Atmos version of Fully Completely
The Tragically Hip's '93 tour, Another Roadside Attraction was originally called "Heksenketel", or witches' cauldron. Which is apt since bands on tour eventually come under some sort of spell. Reality is suspended. Into this cauldron we have added a sea of steaming fans, some vintage Hip performances and a tour bus on its last trip across the country.
Directed by Mike Downie, Edited by Gord MacFarlane
 Fully Completely Atmos Mix
Courage (for Hugh MacLennan)
Looking for a Place to Happen
At the Hundredth Meridian
Pigeon Camera
Lionized
Eldorado
We'll Go, Too
Fully Completely
Fifty Mission Cap
Wheat Kings
The Wherewithal
Locked in the Trunk of a Car
56 page Oral History book of Fully Completely + 5 Lithographs by Lieve Prins
---
Share this Product