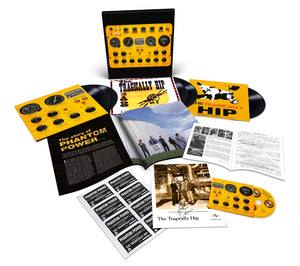 25th Anniversary Phantom Power 5 LP Vinyl Box Set
0001-3003-6000
Regular price
$199.00
$0.00
Unit price
per
Celebrate the 25th Anniversary of Phantom Power with the Phantom Power 5 LP Vinyl box set!
Phantom Power, one of the best Hip albums is now a true double album with 5 brand new, never heard before tracks – 17 tracks in all!
Box set also includes:
A 1998 2LP live show from The Metropol in Pittsburgh, PA
An additional album of 8 alternates curated by the band.
Blu-ray with Atmos 7.1 mixes
12 X 12, 64-page book. The history of Phantom Power by producer Steve Berlin that includes rare photos, concert posters and track by track descriptions from the band.
24-page original Bobcaygeon illustrated video storyboard with behind-the-scenes photos.
Replica 8 x 10 signed publicity photo
Silver foil sticker sheet.
Track list Vinyl
LP
Side A
Poets
Something On
Save The Planet
Bobcaygeon
Side B
Thompson Girl
Membership
Fireworks
Vapour Trails
Side C
The Rules
Chagrin Falls
Escape Is At Hand For The Travellin' Man
Emperor Penguin
Side D - Bonus Tracks
Bumblebee
Insomniacs
Songwriters Cabal
Vegas Strip
Mystery
Recorded live October 2, 1998 at the Metropol, Pittsburgh, Pennsylvania Side A
Save The Planet
Twist My Arm
Poets
Gift Shop
Side B
Bobcaygeon
Nautical Disaster
Ahead By A Century
The Luxury
Side C
Fireworks
Springtime In Vienna
Chagrin Falls
New Orleans Is Sinking
Side D
Grace, Too
Escape Is At Hand for the Travellin' Man
At the Hundredth Meridian
Alternates
Side A
Super Farmer Nano Baby 
Something On 
Chagrin Falls
Fireworks
Side B
Thompson Girl
Escape Is At Hand For The Travelin' Man
Bobcaygeon
Blu-Ray Atmos
Poets
Something On
Save The Planet
Bobcaygeon
Side B
Thompson Girl
Membership
Fireworks
Vapour Trails
Side C
The Rules
Chagrin Falls
Escape Is At Hand For The Travellin' Man
Emperor Penguin
---
Share this Product